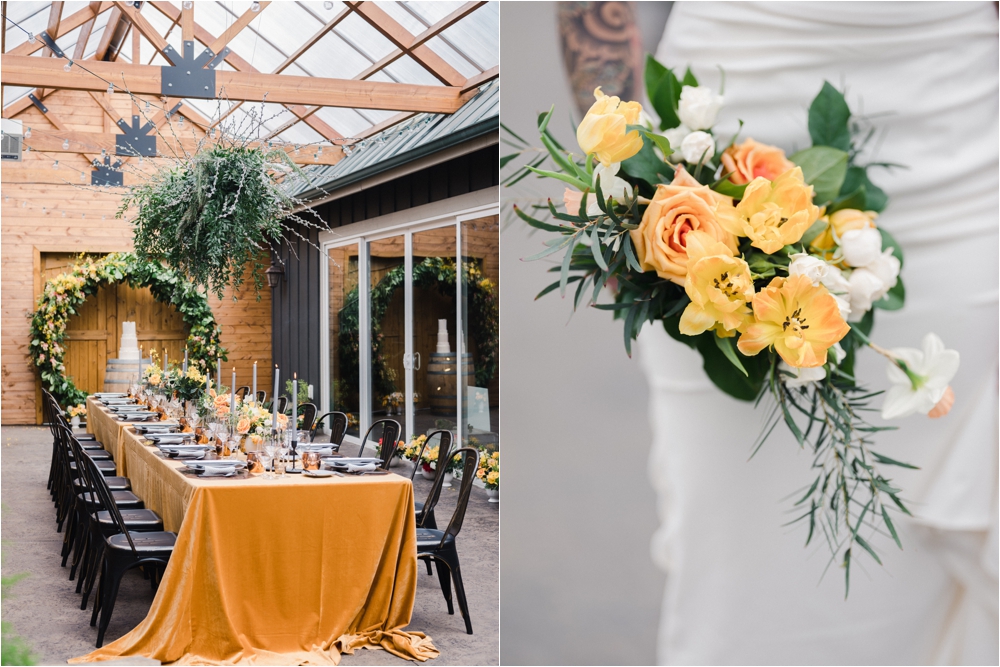 Wedding Intensive Workshop
a three day floral design workshop
Hosted by Alicia Schwede of Flirty Fleurs at the Studio of Photographer Caroline Tran
Los Angeles, California
October 22, 23, & 24, 2019
I am thrilled to share that this October I will be holding a 3 Day Floral Design Workshop focused on Wedding Designs in Los Angeles, California!
The workshop will take place at the bright and airy studio of photographer Caroline Tran in downtown Los Angeles. We are thrilled to share that Caroline will be photographing our workshop! Truly an amazing and talented artist, we are so lucky to spend three days with her in her studio.
Paper floral artist Quynh Nguyen of Pink & Posey will be joining our workshop, she will share how to work with paper flowers in fresh floral displays. Why paper flowers? They are an art form in themselves and they work amazingly well for us floral designers who cannot get certain flowers in the off-season. Seriously – wait until you see the peonies she creates!
As for me, Alicia, I have specialized and delighted in weddings for the past 20 years and am looking forward to sharing what I have learned about flower care and designing with fellow flower lovers.
What's included:
3 Days of Hands-On Design Experience
Photographer Extraordinaire Caroline Tran will be photographing our workshop! You'll have her beautiful images of your designs!
Caroline will also teach you how to use your mobile phone to capture your own floral designs!
Learn how to create large scale installations
Bridal Bouquets – 3 different techniques to create bouquets
Compote styled centerpieces
Large sized altar arrangements
Botanical jewelry – corsages, boutonnieres, flower halos
Continental breakfast and a catered lunch each day.
A gift basket of items personally selected by the instructors for their usefulness, helpful information, or because they are just plain fun.
anddddd Caroline, Quynh, and I have more up our sleeves to make sure you have a great time at the workshop!
All photographs seen on this page were taken by Caroline Tran at the workshop hosted by Quynh of Pink & Posey this past April. I taught sessions on creating a hanging chandelier and the moon arch along with centerpieces.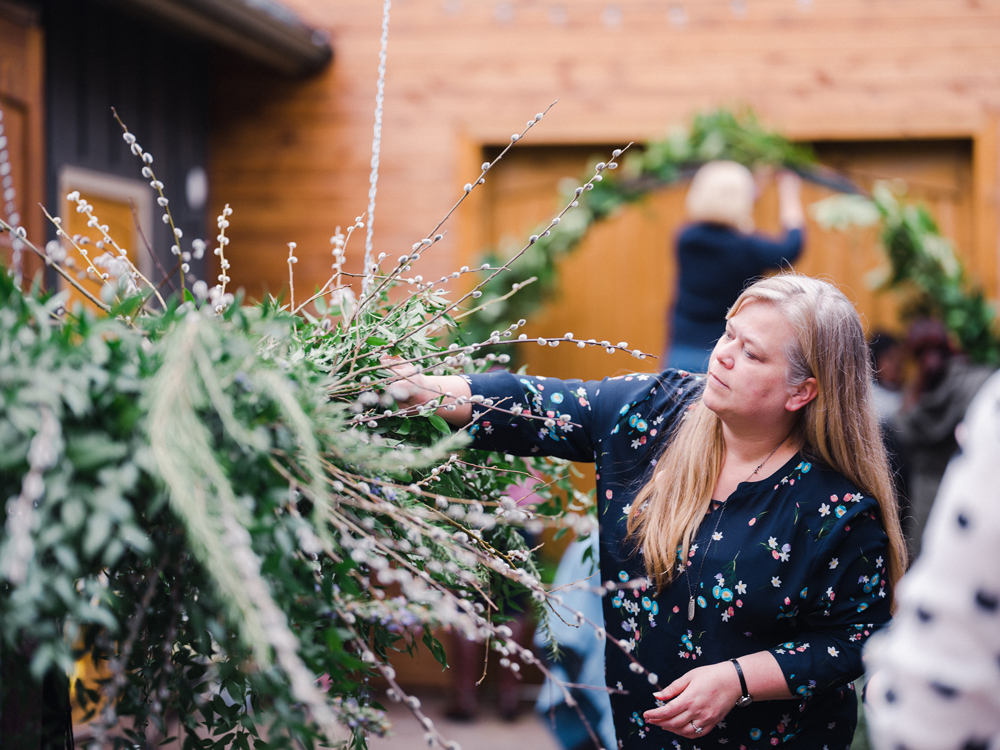 This workshop is designed for both budding and experienced florists who are looking to be inspired and learn. All instruction for designs will be done in a step-by-step fashion.
This workshop will be a limited to 8 participants. The group will be petite and each attendee will receive plenty of individual instruction, plus, with a group so small attendees will have a chance to connect with each other forging new friendships.
All fresh flowers, tools, and vessels are included. Just bring yourself!
I jumped at the chance to sign up for Alicia Schwede's Wedding Intensive Workshop the minute I received the informational email! My floral business is mainly wedding work and I was trained many years ago. This was my chance to learn new mechanics and new design skills.
I had taken a prior Bouquet & Compote class from Alicia a few years ago and was so inspired by her vision and teaching skills, that I knew I needed to take another class in the future.
This workshop blew me away! Not only with the content that was going to covered but knowing the class size was going to be small, meant it was going to be very hands on! The class was paced for any level of skill!
Alicia and her assistant, Keita, gave us all the confidence to design what was in our hearts but also, to not be hesitant to try new things! The skills and mechanics that I learned are forever engraved in my mind! Each day was planned with things to cover and paced perfectly! The flowers that we had available for designing was incredible!
My only disappointment is that it went by so fast! Our group just clicked with each other! Laughter, encouragement and support was a common thread every day! I will miss these ladies very much!
I highly recommend taking a class from Alicia Schwede @FlirtyFleurs! Whether a few hours or a few days! You will come out of it inspired, energized and excited to try out your new found skills!
Happy Flowering!
Lisa Caldwell
The Enchanted Florist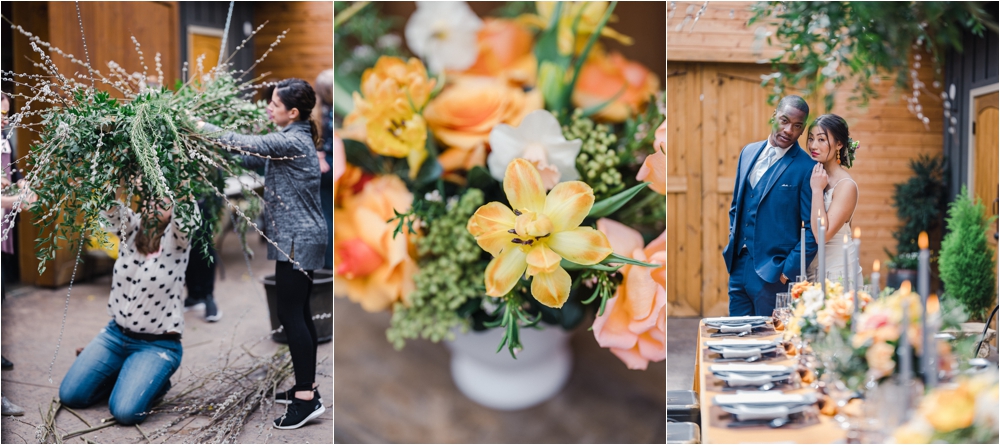 What is included:
3 Days of Hands-On Instruction
All flowers, foliages, and containers used will be provided, yes, you may keep every arrangement you design
A gift basket filled with floral industry goodies – including all the tools you'll need for the workshop
A Binder filled with business paperwork: A personal review of your Website & Social Media Accounts, Floral Plans for Real Weddings, Pricing Guides, Sample Client Contract, Social Media Notes, etc.
This list will continue to grow as I pull together elements of this special workshop
The Details:
Dates: Tuesday, October 22 to Thursday, October 24, 2019
Timeline: 9:30am to 4+pm Daily
Location: Caroline Tran Photography Studio, Downtown Los Angeles, California
Investment: $3,000.00 per person
Pay a deposit of $1,000 now to hold your space and the remaining balance will be due October 15th.
Scroll down for online registration form …
Please reach out to me at Alicia@bellafiori.com if you would like to pay with a Check.
I heard about Alicia's four day wedding intensive by following Flirty Fleurs on Instagram. I debated for several weeks about traveling across the country to attend, but I decided to go for it. It was a great four days of learning how to create all of the important wedding florals, plus education on purchasing flowers and dealing with wholesalers and pricing and other business aspects of weddings. I'm so glad I made the trip. The small group size allowed Alicia and Keita to be immediately available to help and critique our designs. I would highly recommend the class to anyone interested in learning about wedding florals!
Katy Burke
Burke's Blooms
What is not included:
• You will be responsible for all travel arrangement to get to the Workshop (including airfare and car rental/train fare/etc.).
• Accommodations are not included.
The Schedule Of The Day: Tuesday, October 22nd


Start Time: 9:00 Gather for coffee, tea, and treats and get to know each other during introductions
Morning Session: 9:30 Design sessions begin with Alicia demonstrating a compote centerpiece, each student will then try their hand at creating their own centerpieces
Lunch Time: Enjoy a catered lunch
Afternoon Session: Alicia will share three different mechanics of creating bridal bouquets, each student will be able to try all 3 styles!
Afternoon Session: Quynh will demonstrate and share how paper flowers can be used with fresh floral designs
Day Concludes, enjoy a free evening in Los Angeles!
The Schedule Of The Day: Wednesday, October 23rd
Start Time: 9:00 Gather for coffee, tea, and treats
Morning Session: 9:30 Caroline Tran will share hints & tips for photographing your design work with your smart phones – an amazing experience by an amazing photographer!
Alicia will share how to design a large vase arrangement floral design, these designs are great for entry ways, escort card displays and altar pieces. Each student will get to design their own large vase arrangement.
Lunch Time: Enjoy a catered lunch
Alicia will share how to design flower crowns, combs, and halos
Day Concludes, enjoy a free evening in Los Angeles!
The Schedule Of The Day: Thursday, October 24th
Start Time: 9:00 Gather for coffee, tea, and treats
Morning Session: 9:30 On this day we will be creating our large installation projects! We have a bunch of projects planned and a variety of mechanics to create installations will be shared.
Lunch Time: Enjoy a catered lunch while we continue to work on our projects
Afternoon Session: Continue with the fine tuning of all installation projects.
Photoshoot will take place on this day!

"I love teaching, sharing what I've learned over the course of 20 years in the flower business. Being surrounded by flower enthusiasts is a wonderful thing and I love watching students work on a design and how their eyes light up when the design is completed. The words I live to hear from students – "this was such a fun day, I can't wait to do it again!"
– Alicia